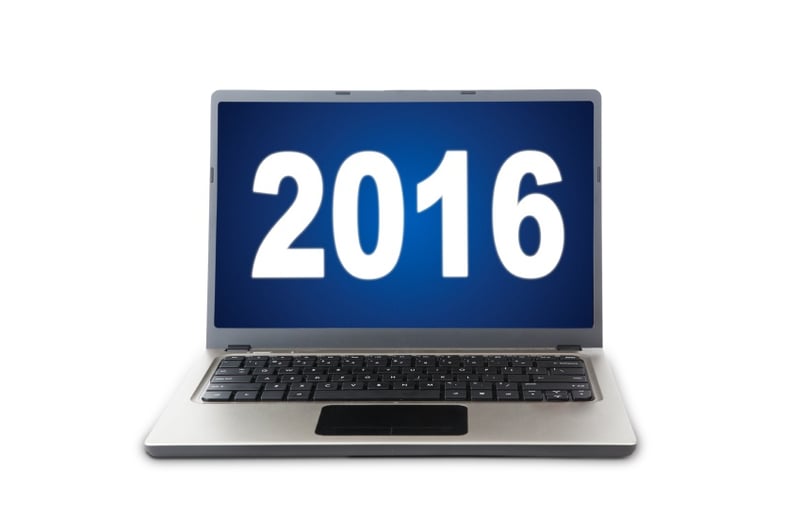 It's always around this time of year that we see trends articles start circulating about the coming year. In the world of digital marketing, these are very popular.
After you've seen which trends held true for 2015, let's take a look at what people are expecting to see in 2016.
The ROI of Social Media
In his article, "15 Digital Marketing Trends for 2016 That Could Destroy Your Business," Jeff Bullas points out that "for the last seven years, the shiny new social media toy has distracted us."
Now, instead of focusing on what Jeff calls "vanity metrics"—think likes, comments, shares, etc.—marketers are being asked to prove the ROI of their social media efforts. As Jeff explains:
Social media is great for traffic, brand awareness and customer engagement, but as you move down the sales funnel the other digital marketing tactics are vital.
In 2016, marketers will need to continue to identify which social media sites are yielding the biggest ROI for their respective companies and concentrate their focus and efforts on those.
Marketing Automation
Jeff is spot on with this one: "The splintering of media means that to do digital marketing at scale you need help." Marketers can get that help from a multitude of marketing automation tools and software.
Check out Hubspot's software to put together workflows that trigger certain actions after a certain amount of time has passed. For example, say someone downloads an eBook on your site. After a few days, the workflow you set up will automatically email them with a follow up email to see how they're enjoying the eBook and if you can answer any questions they might have.
Additionally, you can use tools like Buffer or Hootsuite to schedule out your social posts ahead of time so that you don't have to manually log into each social media site every time you want to post.
These types of tools and software don't only allow marketers to do more; they also make measuring activities easier, allowing companies to scale more effectively and efficiently.
Video Marketing
In his Forbes article "10 Content Marketing Trends To Help You Budget for 2016," John Hall comments on how video will continue to move upward in popularity and effectiveness.
According to Cisco, video will account for 69 percent of all consumer Internet traffic by 2017. But that video content won't only be business-generated. Many companies will leverage user-generated video in their content marketing strategies.
Relationship Marketing
In Meaghan Moraes's piece for Hubspot, "7 Game-Changing Marketing Trends To Tackle in 2016," she posits that relationship marketing will continue to evolve next year.

What's relationship marketing, you ask? As Meaghan puts it:
The goal of relationship marketing is to focus on building stronger loyalty and long-term customer engagement rather than on quick, short-term customer acquisition and individual sales. This helps companies develop strong, emotional customer connections to their brands that drive word-of-mouth promotions and lead generation.
This means that organizations can create brand advocates by having meaningful conversations and building relationships with their target audience. This form of marketing will replace the "intrusive, mass-target approaches" of yesteryear.
Virtual Assistants
This one comes to us from Matei Gavril over at Entrepreneur. In his article, "7 Digital Marketing Trends to Watch Out for 2016" Matei sees a new form of optimization coming our way in the form of appealing to virtual assistants like Siri and Cortana.
Think of it this way: while in the past everyone relied on typing search queries into Google and other search engines, now more and more people are utilizing digital assistants to find the answers to their questions.
Will we see more and more marketers optimizing for virtual assistants in 2016?
Wearable Technology
This item made a lot of people's trends lists for 2016. In her post for the Search Engine Journal "10 Digital Marketing Trends to Watch Out For in 2016," Margot da Cunha notes how devices continue to rule our world, and wearable ones increasingly so.

In fact, according to Acquity Group, wearable tech will see a user adoption rate of 28 percent by 2016. What does this mean? More data for marketers. Basically, marketers will be able to track their prospect's every move.
---
2016 should be a very exciting year for everyone in the digital marketing world. Not only will it be sure to keep us on our toes, we have to head into the year knowing that we'll need to be flexible and ready to dive into new and uncharted territory.