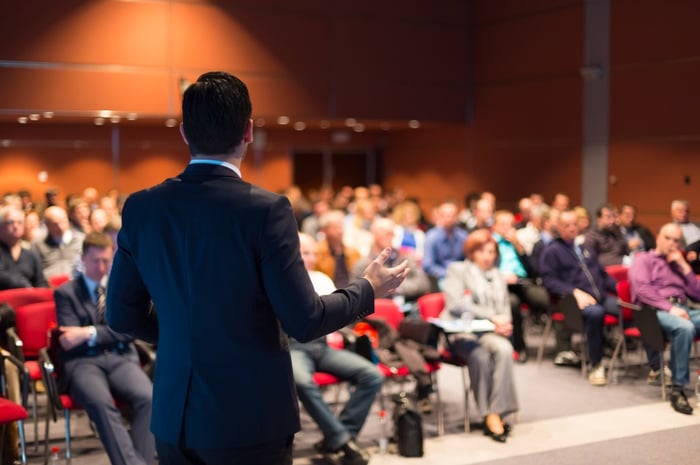 Conferences are a great way to learn new and emerging information about your industry as well as meet and network with others.
If you haven't yet reserved your spot at a conference this year, it's not too late. You can still sign up (and at discounted prices) and get the networking juices going!
Here are our top picks for upcoming conferences in the U.S. during the second half of 2015. Take a look to see which one is right for you!
1. 2015 Marketing Technology Summit
When: August 20
Where: Scottsdale, AZ
First up, the 2015 Marketing Technology Summit, hosted by the Arizona Technology Council and Business Marketing Association. Join more than 150 B2B marketing, sales and technology professionals from throughout Arizona.
This is a half-day program that focuses on understanding your buyer and includes panels with tech buyers, sales and marketing leaders, and a keynote on articulating buyer personas and mapping the buyer's journey.
2. B2B LeadsCon Summit
When: August 24-26
Where: New York, NY
The B2B LeadsCon summit is the only event exclusively dedicated to B2B lead generation. Learn effective editorial strategies, content distribution techniques, measurement ideas, and receive a one-on-one SEO website analysis.
Join over 1,700 marketing professions to learn the latest targeting techniques to "identify, qualify, engage and convert leads to meet and exceed your B2B lead gen goals."
3. Inbound 2015
When: September 8-11
Where: Boston, MA
I'm most excited about this one, because I will be attending! Join the xoombi team at Hubspot's Inbound 2015. Speakers include Seth Godin, Brené Brown, Daniel Pink, Dharmesh Shah and Aziz Ansari!
The Inbound conference runs the gamut: from content marketing strategies and social media marketing hacks to sales best practices and lead generation. Events include keynotes, spotlight speakers, "bold talks," ideas and experiences, and hacks, tips and tricks.
4. Content Marketing World
When: September 8-11
Where: Cleveland, OH
There are two conferences I've always wanted to attend—Inbound and Content Marketing World—and this year they happened to fall on the same dates!
The Content Marketing Institute's Content Marketing World will feature over 80 sessions and more than 2,600 marketers. Attend this conference to learn more about content strategy, measurement, and integration.
5. Dreamforce 2015
When: September 15-18
Where: San Francisco, CA
Pardot's Dreamforce 2015 will feature over 50 sessions on topics including B2B marketing automation, lead nurturing, intelligent marketing, and sales and marketing alignment.
Other events include one-on-one strategy sessions and Salesforce certification sessions.
6. SMX East
When: September 29-October 1
Where: New York, NY
SMX East is a search marketing conference and expo that provides a deep dive into SEO and SEM tactics. Choose from more than 50 sessions, keynotes and clinics that address your current search marketing challenges.
What's different about SMX is that it's not produced by a software company or digital marketing agency, but is programmed entirely by the team at Search Engine Land.
7. Social Brand Forum 2015
When: October 15-16
Where: Iowa City, IA
The Social Brand Forum will bring the "best and brightest thought leaders to the heart of the heartland for two days of insightful keynotes and interactive discussions."
This conference is for marketers who want to build better brands online through community, conversations, and digital content.
8. Converge 2015
When: October 21-22
Where: New Orleans, LA
Converge 2015 is an inbound marketing conference for higher education. At Converge, you'll learn about recruitment strategies and new ideas while enjoying professional networking, interactive workshops, and amazing speakers.
Speakers hail from Google, Moz, Hubspot and Distilled. If you're interested in taking your university's marketing and recruitment to the next level, this is the event for you.
9. Digital Marketing Boot Camp for the Arts
When: October 29-30
Where: New York City, NY
This Digital Marketing Boot Camp for the Arts is a two-day conference focused on digital marketing for cultural organizations.
Sessions cover topics including user experience, turning patrons into digital evangelists, developing a content strategy, and creating a content-driven website.
10. Internet Summit 15
When: November 18-19
Where: Raleigh, North Carolina
Internet Summit 15, "the Southeast's definitive digital gathering," will cover everything from digital strategies, social media and content marketing, to design, search, analytics, and emerging technologies.
Speakers include Rand Fishkin of Moz, Jason Miller of LinkedIn, and New York Times bestselling author Chris Brogan.
Time to Decide!
Whether you decide to meet up with us at Inbound in Beantown or decide an industry-specific conference is best for you and your business, you won't be disappointed!
Not only are marketing conferences fun and informative, they can lead to the development of important business relationships that can lead to referrals and deals.