There are many components that go into being an effective marketer. And with the proliferation of technology in this day and age, marketers may feel they need to be everywhere at once.
So what should marketers do? Have incredible, in-depth knowledge on one or two specific areas, or have a little bit of general knowledge about many things?
The T-Shaped Professional
Enter the concept of the T-shaped professional.
This idea, an employment and management philosophy from the early 1990s and championed by IDEO CEO Tim Brown, refers to people that have two kinds of characteristics, hence the use of the letter "T". In Brown's own words:
The vertical stroke of the "T" is a depth of skill that allows them to contribute to the creative process. The horizontal stroke is the disposition for collaboration across disciplines.
Essentially, T-shaped professionals are a mixture of I-shaped individuals—who are experts in one specific area—and Generalists—who have general knowledge across a wide range of topics.
How Does This Apply to Marketing?
To answer this question, let's look at a few diagrams.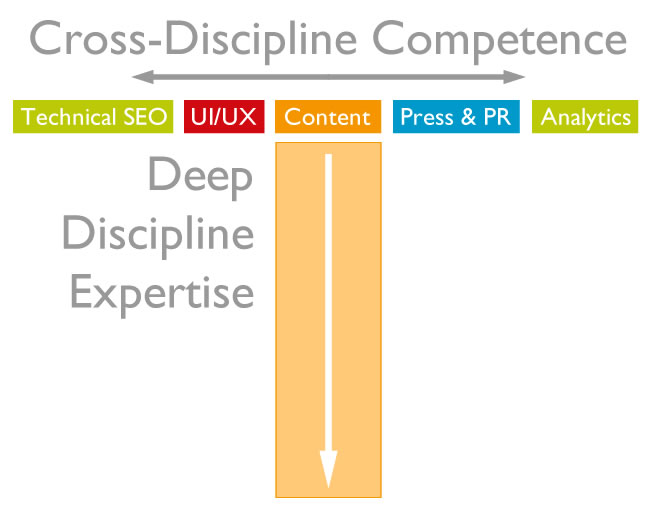 via Distilled
This diagram shows how Distilled encourages their employees to have cross-discipline knowledge in areas like technical SEO, UI/UX, press & PR and analytics, coupled with deep discipline expertise in content. This skill set makes sense, as content touches all of the other areas that make up the top of the "T".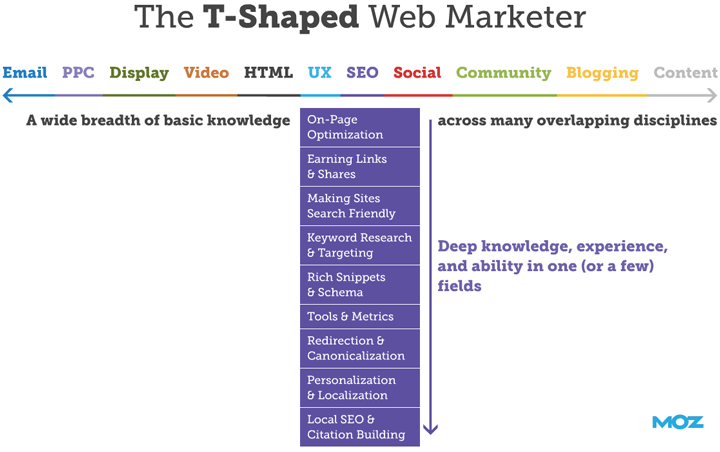 via Moz
This diagram, similar to but a bit more in-depth than the first, is brought to us by Rand Fishkin of Moz. This shows the all encompassing T-shaped skill set that the web marketer should have, including "a wide breadth of basic knowledge across many overlapping disciplines" like email, PPC, social, blogging, etc., as well as "deep knowledge, experience and ability in one (or a few) fields," his example being SEO.
How to Become a T-Shaped Marketer
In order to become this breed of effective marketer, first find your niche or specialty—this can be what you're naturally gifted at or what you find most interesting—and then dive in. Dedicate the time and energy into really getting to know the craft and mastering the many components of that discipline.
While you're becoming well-versed in your specialty of choice, you should also be (and most likely will be) learning about other, related disciplines. By developing competence in these related fields, you'll know when you can handle projects that incorporate them, and when you'll need to bring in another expert.
The Perks of Being T-Shaped
There are multiple perks of having a team comprised of T-shaped marketers. Here are a few Moz and Distilled have experienced.
1. People are able to develop mastery.
According to Daniel Pink, people need autonomy, mastery and purpose in order to be happy in their work. If you're simply completing tasks off a never-ending checklist, you'll never have the chance to master a specific skill.
Developing mastery in a particular discipline also brings about recognition from other teammates as well as those outside of the organization.
2. People respect their teammates even more.
By having a general understanding of all of the components that make up other disciplines related to one's own mastered discipline, people tend to value those traits even more and respect those who have them. They're also more likely to understand the challenges others might face.
3. There's never only one person who can get the job done.
It's difficult when only one person on a team is capable of doing a certain task. This can make hitting deadlines and/or being flexible with clients difficult. When your team is made up of T-shaped marketers with overlapping skill sets, this will rarely be a problem.
4. Creativity comes naturally.
As Rand so beautifully puts it:
Creative solutions are tough to come by and even tougher to evaluate and build off when there's only a single person in your organization knowledgeable about a topic. By having multiple overlapping T-shapes, a marketing team can invent and evolve remarkably unique and powerful solutions to problems.
Conclusion
So if you're curious about whether you should be an expert or a generalist, the short answer is: Be both.
Find out which discipline naturally calls to you and master it, but don't neglect other, related skills that you know will come in handy. This is the secret to being a truly effective marketer.