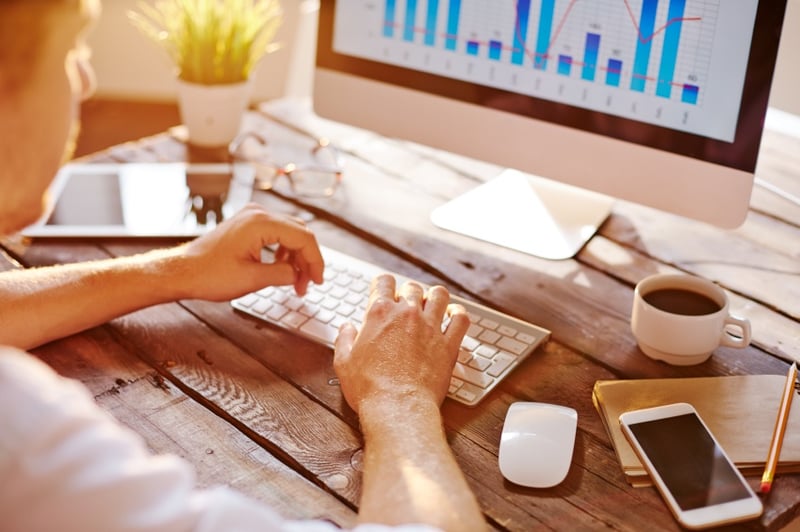 Learning about and utilizing CRO best practices won't only make user experience on your site more seamless and friendly, it can dramatically increase your business's revenue.
That's why it's crucial to keep CRO (which stands for conversion rate optimization) in mind when updating your website and planning your digital marketing strategy.
The Basics
Let's start from the beginning: What's a conversion? A conversion occurs when a web visitor takes an action you want them to, like opening an email, downloading an eBook or signing up for a free demo.
Your conversion rate can be calculated by dividing the number of total conversions on your site by the number of visitors to your site. For example, let's say Company A had 800 conversions and 20,000 web visitors last year. That would mean their conversion rate was 4%.
The purpose of CRO is to improve features on your website in order to turn more visitors into paying customers. It employs user feedback and analytics to improve site performance.
Tips and Tricks
Recently Salesforce Canada published an awesome infographic about CRO hacks. Here's what we learned and how you can apply it to increase your own conversion rate.
1. Increase Site Speed
Did you know that a one second delay in page load leads to a 7% decrease in conversions? In order to speed up your page load time, declutter your home page to make it easier to read, invest in cleaner page design, and shorten your landing pages.
2. Use Larger Product Images
If you're selling physical goods, larger product images can mean higher click rates and increased sales. According to Salesforce, "a large ecommerce retailer increased sales by 9% when they increased the size of their product images." Similarly, an auction site experienced 63% more people clicking to bid when they increased their product images by 28%.
3. Use Action-Oriented Copy
By using action-oriented copy, you'll show that your product or service can solve the prospect's problem. Simply changing page copy or button text can improve your conversion rate. For example, try using "Download Your Free eBook" or "Get Quote Now" instead of "Submit" for button text.
4. Have a Prominent, Focused CTA
Make your calls to action contextual, prominent, a part of the content area, and above the fold. Your CTAs should also be specific and explain exactly what a user will get by taking the action you want them to.
5. Test Button Colors
A/B test button colors on your site to see which is most effective. Oftentimes, using the complementary color to the most prominent color on your site is the best for buttons, as it draws the viewer's eye.
6. Be Transparent
Make sure you provide all essential information on your site. For example, list your prices because "consumers may think a product or service is expensive" if you don't. You should also prominently display perks, like free trials or free shipping.
7. Provide Security and Proof
You can improve your conversion rate by adding a security seal, like the BuySafe seal. Guarantees can also help increase your conversion rate, as they improve trust. It's also important to add proof that your product or service works, including third party validation and social proof like reviews and testimonials.
8. Make Registration Easy
Last but not least, make registration easy by eliminating unnecessary form fields. By eliminating one field (company name) from their registration form, a travel booking site increased their site profit by $12 million.
Conclusion
Ultimately, CRO lowers customer acquisition costs and is a low cost way to maximize profits.
As the infographic points out, even if order value and web traffic remain the same, "a slight increase in your conversion percentage can have a huge impact on your sales." Depending on your web traffic, a one or two percent increase in your conversion rate could mean millions of dollars of additional revenue.

Infographic via Salesforce Canada