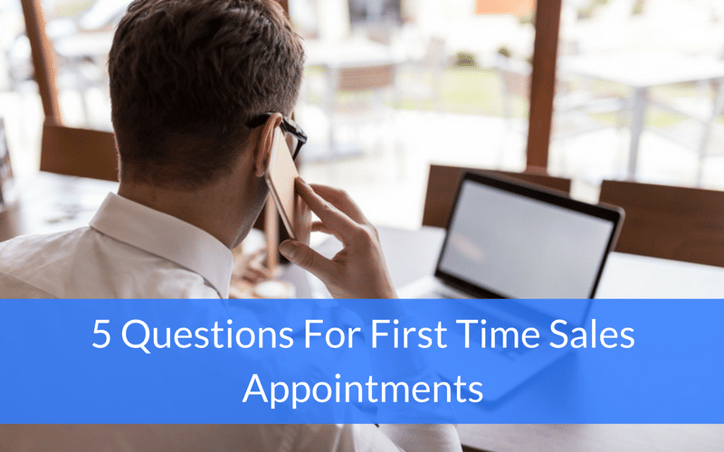 Salespeople and managers get excited about developing new opportunities with first time appointments, but there are big challenges to overcome.
First of all, new appointments don't come easy. One right or wrong move early in the conversation gets you into or out of the game.
Secongly, many of your prospects know (or think they know) everything about you and your competitors and have formed strong opinions about your company and your capabilities. On the other end of the spectrum, there are prospects who know they need to do something, but they're overwhelmed with information and have no clear direction for what they want to do.
It's easy for salespeople to get trapped into answering questions about features, pricing, differentiators, etc. and come out of the meeting without really knowing the customer's goals, needs, and wants.
These five questions will help you develop opportunities with first time sales appointments.
1. Current Initiatives
"I was reading about... (on your website, LinkedIn Profile, etc.) Tell me more about (the initiative)..."
2. Goals & Responsibilities
"What are the most important goals and measurements you're responsible for?"
3. Successes
"Based on what you are currently doing... what seems to be working best?"
4. Challenges
"What are you struggling with the most?... What's not working?"
5. Solution Options
"What solutions have you explored so far?... What options resonate most with you and your team?... What do you like most about (those options)?"
---
Be patient. Take your time with each question, and resist the urge to start offering solutions and pitching your services. Probe for clarification, understand the why, and uncover the need behind the need.
Take notes and have a goal to develop the conversation until you have a minimum of three to five "check marks" on notes detailing specific needs that fit into your solution offering. When you have enough check marks, start building value with, "I have some ideas around..." Start with the first check mark and work your way down the list.