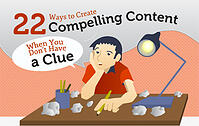 Sales depends on Marketing to create content that will help generate leads and create follow-up opportunities with prospects.
Ever wonder how writers consistently come up with great ideas for compelling content? Do they ever get writer's block? Of course they do, but knowing you're not alone doesn't make things better.
You've got to come up with something. Even when other projects get in the way, and you've fallen behind on your editorial calendar, driving new opportunties for Sales remains top priority. Here's a list of 22 things you can do to get out of a jam...
Like this infographic? Get more content marketing tips from Copyblogger.
Want more ideas? Join the discussion on Google Plus.