Whose sales pitch are you buying? Inbound marketers will tell you cold calling is dead. Hardcore sales leaders believe the exact opposite. Although inbound marketers have the louder voice, it doesn't mean they're right. Great organizations expertly weave both inbound marketing and outbound sales tactics into their go-to-market strategy.
Sales and marketing strategies must adapt to what customers and market forces demand. Build your plan around scalable systems and processes that keep you nimble, agile, and relevant.

Tools and Platforms Used for Outbound Sales
There are a plethora of tools for outbound sales. To help you get acquainted with a few, here is a list of some of the ones we like:
1. The Hubspot CRM and Sidekick helps you quickly add accounts and contacts with a touch of a button. You can create sales templates, messaging, and documents to easily manage and share with prospects. It's quick and easy to create deals and drag-and-drop to pull them through your custom sales stages. The other big advantage comes when Sales and Marketing teams manage all companies and contacts under the same database.
2. InsideSales.com's Sales Acceleration Platform includes communications, gamification, predictive analytics and data visualization. It allows you to contact prospects "in the right way, at the right time," motivate your sales team, predict which leads you are most likely to contact, qualify and close, and makes data actionable.
3. LinkedIn's Sales Navigator is a social selling tool that allows you to focus on the right prospects, stay informed with insights, and build trusted relationships. Start by using the tool to receive tailored lead recommendations and find the right prospects, fast. You can save these leads and follow updates on your prospects, turning cold calling into warm conversations.
4. Witty Parrot can be used for anything from sales enablement, talent acquisition, customer service and marketing and messaging to personal productivity. Here's how it works: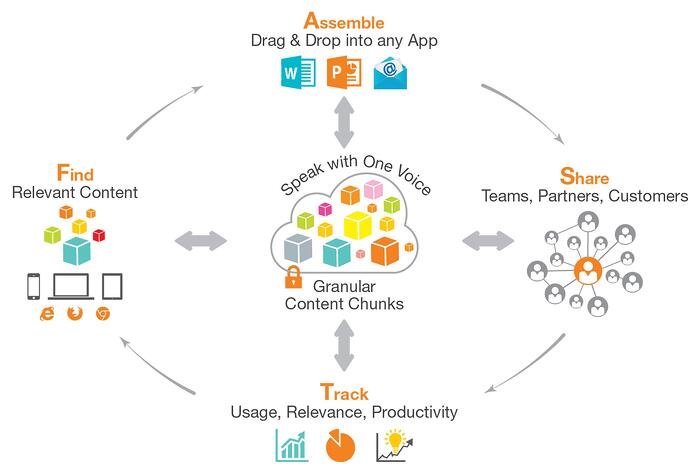 Image via WittyParrot
5. Nancy Nardin's list of Smart Selling Tools is great if you're looking for more sales enablement and sales acceleration tools. It includes platforms for all of the following:
Contract management and eSigning
Gamification
Inside sales
Mobile selling
Pipeline management and deal flow
Power prospecting
Quoting and pricing
Sales and marketing content
Sales enablement
Sales performance
Territory and account planning
Value selling and ROI
How Inbound Marketing Complements Outbound Sales & Marketing
Inbound and outbound marketing are not either-or strategies, because both are effective. Today, the rise of social media and mobility have made inbound incredibly powerful and companies whose marketing plans don't include inbound are losing ground. By creating a powerful website that's regularly updated with new content and implementing a great content marketing strategy, you build digital assets that consistently drives prospects to your business.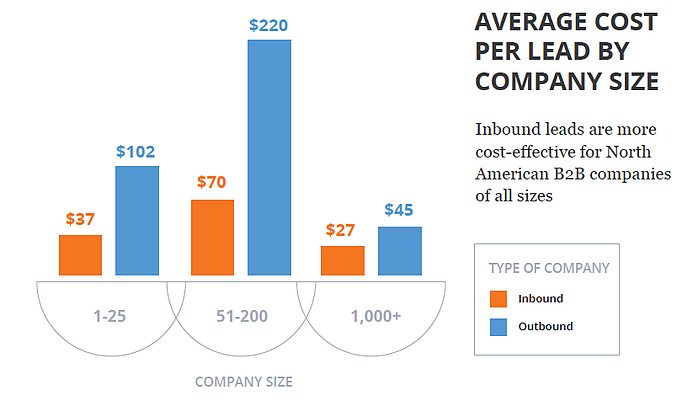 Image via Hubspot
Social media is an important component of inbound. It's inexpensive and is the best way to track and engage your target market. Inbound techniques including social media, blogging, search engine optimization (SEO), and email marketing are so effective that companies have transitioned to inbound marketing more than traditional outbound marketing.
Tools and Platforms Used for Inbound Marketing
It's easy to be overwhelmed by the huge numbers of inbound tools available. Five of the most common tools inbound marketers use include HubSpot, Google Keyword Suggestion Tool, Facebook Ads, KISSmetrics, and Google Analytics. Here's a quick look at all five:

1. The HubSpot Marketing Platform is an inbound software platform that many businesses use as their inbound focal point. It helps businesses automate creation of content as well as capture and manage leads.

2. Google Keyword Planner provides businesses with information about the most popular keywords which can be used for planning content. Using appropriate keywords in a relevant context with fresh, original, and value-rich content can help move pages to the top of search engine rankings.

3. Facebook ads, when part of a strong social media strategy, can help boost click-through rates by identifying the interests of businesses' target audiences on Facebook. By combining elements of outbound and inbound marketing, Facebook ads allow businesses to choose the audience they want to reach and show ads to those specific people.

4. KISSmetrics is a web analytics tool that can help businesses engage in more effective inbound marketing. These analytics allow businesses to develop and present engaging content that increases conversion rates.

5. Google Analytics is another analytics program with free and paid options that helps businesses gain a comprehensive view of their advertising and content campaigns in terms of web traffic and conversions. It allows users to track visitor demographics, page views, bounce rates, and more.

Conclusion
There is an ideal sales and marketing plan for you and your business. Inbound marketing has grown in importance with the rise of the web and social media, and if you're not using inbound, you're leaving money on the table. But, don't buy-in to arguments for one OR the other. The best practice is to do BOTH inbound marketing and outbound sales. If you'd like to know more about how to align both strategies, reach out to us for help.
Image Source: iStock