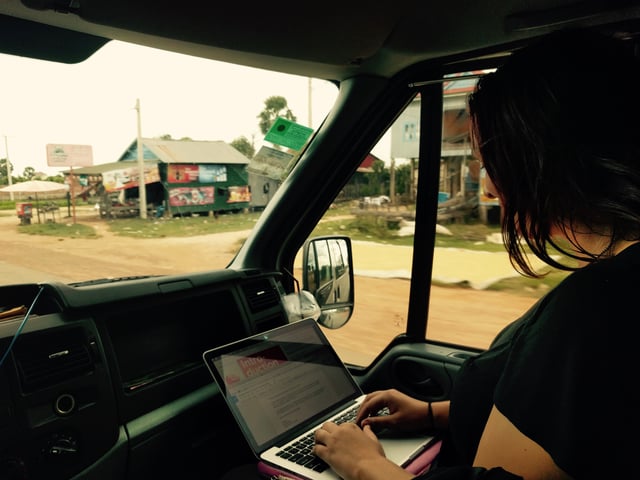 Working remotely means having the freedom to work wherever you want.
Although some people prefer to work from home or at a coworking space, there are times when you find yourself doing your 9 to 5 in a non-traditional work environment.
For example, I recently found myself writing campaign copy on a mini bus from Phnom Penh to Siem Reap, Cambodia (pictured).
When this happens, staying focused can be even more of a challenge.
Here are a few things that can help you continue to be productive, no matter where you're working!
1. Set goals.
This can help you stay focused if you work in a traditional office environment, but is even more helpful if you're not.
Setting daily and weekly goals—whether you do that by creating a To-Do list in Trello or use a project management system like Teamwork—can keep you on track and knocking out your tasks.
You'll know what you need to complete each day and what you need to finish by the end of the week, making you more focused on what's important no matter where you are.
2. Listen to music.
If you're trying to complete projects in a non-traditional work environment, there can often be noisy distractions.
First of all, you might want to invest in a good pair of headphones (here are a few of my favorite brands). Next, find some chill music or ambient sounds to drown out any chatter and improve your focus.
3. Have a routine.
Routine can also help you stay on task. Even if your work environment might change from day-to-day, having a digital routine can provide some sense of normalcy and control.
For example, I always check my email first and respond to and/or complete any tasks mentioned in said emails. I then head over to my To-Do list Trello board and work through what I need to complete for the day.
4. Take breaks.
Sometimes there might just be too many distractions. This can happen, and if it gets to be too much, allow yourself to take a break and enjoy your surroundings—just make sure you make up for any tasks you didn't complete.
5. Keep open lines of communication.
Whether you're half way across the country or half way across the world, staying in touch with your teammates is essential. Using digital communication tools can help you stay on top of projects and keep your progress on track.
After all, there's no better productivity motivator than someone to keep you accountable.
Conclusion
Working remotely has its pros and cons, but having the flexibility to work wherever you want is one of the highlights. While sometimes it can have its downsides, learning how to be productive no matter where you are can help you better understand how you work, and how you work well.