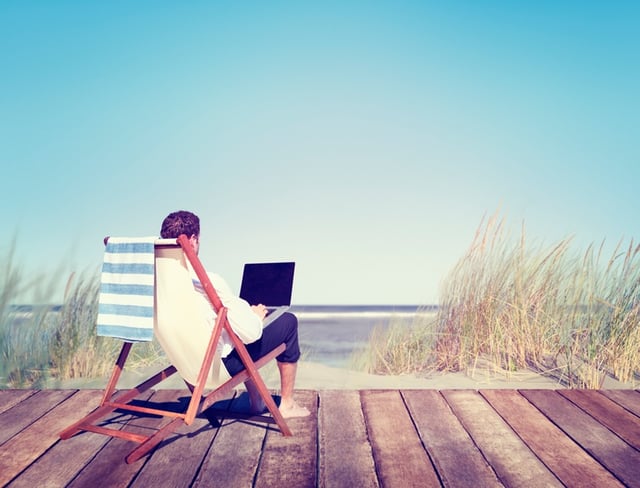 Working remotely can literally open up a world of possibilities (case in point: I'm writing this from a beach in Thailand), but it also comes with its own challenges.
If you plan on working remotely, are new to the remote work lifestyle, or are ready to make the transition, here are a few pros and cons you should be aware of.
The Pros
These are probably pretty obvious, but let's review them anyway!
1. You don't have to go into an office everyday.
While some people thrive in an office environment, others feel trapped and claustrophobic. Whereas some positions require you to be physically present in an office, most jobs these days can be and are performed almost entirely on a computer.
If your situation is more like the latter, you may be able to transition into a full-time or part-time remote work schedule. Not only does this mean you don't physically have to be in an office day-in and day-out, you can find the best work environment for you, which brings us to Pro #2.
2. You can work from anywhere.
The true beauty of working remotely is being able to work from anywhere, whether that be your couch, a park, a beach, a coworking space, or your local coffee shop. It offers you the chance to discover which working environment is best for you; somewhere you're most productive and happy.
Essentially, all you need to do your work is a laptop and an internet connection. Have to make a last minute trip or simply feel like a change of scenery? No problem; as long as there's WiFi where you'll be staying (or somewhere nearby), you'll have the freedom to travel as you please.
3. You have a flexible schedule.
This one depends on your company and whether or not you're on salary, but with most remote companies, as long as you're available during certain times, attend meetings, and continue to perform, you'll be able to work when you want.
For example, say you're not an early riser and tend to be a bit cloudy until you've had a couple cups of coffee, as long as you don't have any early-morning meetings, you might be able to start working a bit later (and make up the time by working later in the day). If you have children this can also be incredibly beneficial, as you can take the kids to and pick them up from school without eyebrows being raised (as is often the case in office environments).
The Cons
While some of these aren't necessarily cons, they can prove to be challenges for some people (especially if you're never worked remotely before).
1. Your only motivation is yourself.
You have to be very self-motivated if you want to successfully work remotely. There won't be any managers walking by to ask what you're up to, or certain sites blocked on your computer (unless you block them yourself).
This means you have to be completely responsible for motivating yourself to get your work done. While this might take some time to figure out at first, it's best to create a system that helps you prioritize the tasks that are most important and calculate how long each task will take to complete.
2. Time differences might be difficult to navigate.
Depending on the type of work you're doing, big time differences can be challenging. If you regularly collaborate on projects with other teammates or do work that you need input on, being in time zones that don't overlap can be difficult.
If this is the case for you, try to overlap with your team's working hours by an hour or two to get any questions you have answered and any unresolved details hammered out. If you're fairly independent when it comes to your work, all you may need is to shift your hours in order to attend important meetings.
3. Loneliness can be an issue.
Many remote workers experience loneliness if they're working from home day-in and day-out. This can be counteracted, however, by going into a coworking space or working from a café a few days a week.
If you do experience loneliness, you're not alone! It's so common, there are actually a few threads about this over at Inbound.org (one with 98 comments and the other with 35 of other remote workers' similar experiences).
Conclusion
If you're thinking about taking the dive into working remotely, it's important that you first know what you're getting into—both the pros and the cons! While we're big fans of remote inbound marketing work here at xoombi, as the saying goes, "different strokes for different folks." There's really no way to know how you'll adjust to remote work life until you experience it for yourself.