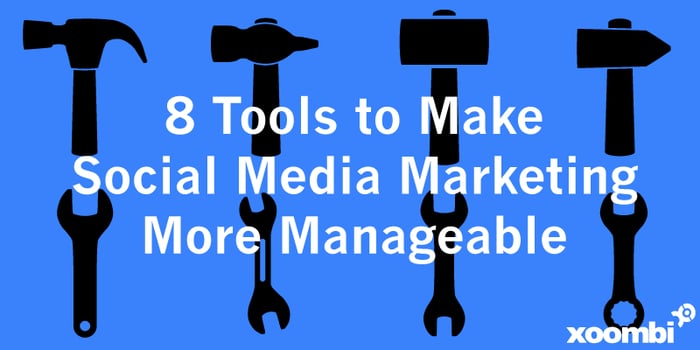 Social media marketing can seem like an all-consuming endeavor: there are lots of social media networks out there and new ones, like Ello, pop up all the time. So how do B2B companies decide which sites to be on, what and when to post, and how to best engage with each platform's audience?
First, there are some social media marketing basics you need to know. Once you've got those down, there are free and low-cost tools available that will make your life easier.
In this post, I'll break down those tools into three categories, curation, scheduling, and management, to make them more digestible. Take a look, pick your favorites, and check them out today!
CURATION
Klout
Klout is an online platform that helps you "create and share great content." Not only does it suggest "shareable" content, including hidden gems that your audience probably hasn't seen yet, it tracks likes, retweets, and shares. Klout can be used on Twitter, Facebook personal profiles and business pages, Blogger, Flickr, Foursquare, and Google+.
Beatrix
Beatrix provides "auto suggestions, content remixing tools and more." It helps you manage your social media accounts by finding, creating, approving, and scheduling posts after you give her information about your company and/or clients. Simply set keywords and let Beatrix suggest viral images, videos, interesting links, and text snippets.
SCHEDULING
Buffer
Buffer is one of the most popular social media management tools. Not only does it allow you to schedule your posts based on optimal posting times, you can link up various social media profiles and use Buffer's suggested content tool if you're not sure what to post.
Hootsuite
Hootsuite "manages social networks, schedules messages, engages your audience, and measures ROI right from the dashboard." The software allows you to connect with over 35 social networks and offers tools for engagement, listening, analytics, collaboration, security, and integrated apps.
Oktopost
Oktopost makes it easy to manage and measure your B2B social media marketing strategy. This software allows you to create and manage social campaigns, schedule content distribution in advance, manage large-scale content distribution, measure clicks, engagement, and conversion, and track each lead you generate.
Edgar
Edgar is "the only app that stops social media updates from going to waste." Instead of having your social updates only be seen by a fraction of your audience, Edgar ensures you get more social interaction from your posts. He does this by cataloguing all of your posts in a limitless library, categorizing them, and publishing them on a schedule that you choose.
MANAGEMENT
Tagboard
Tagboard allows you to monitor hashtags across multiple social media channels. It pulls in content from Twitter, Facebook, Google+, Instagram and Vine based on a specific hashtag. It then creates a custom board dedicated to that hashtag and fills it with content from all social media sites, making it easier to manage social conversations you have a stake in.
Mention
Mention allows you to listen to what's being said on the social web and "react quickly, collaborate, and analyze your online presence." Not only can you monitor sources in real-time, you can connect your social accounts and react to "mentions" in seconds. Once enough data is collected, you'll be able to generate reports and compare yourself to your competitors.
---
Conclusion
Yes, there's a lot that goes into social media marketing, but these tools can help make it more manageable. Check out all of them or one from each section and see how it fits you and your company. Many of these tools have free trials, so there's no hurt in giving them a go for a week or two.
Hopefully you'll find one you simply adore and be able to take your social media presence to the next level. If you do, please come back and tell me which one you liked best in the comments!