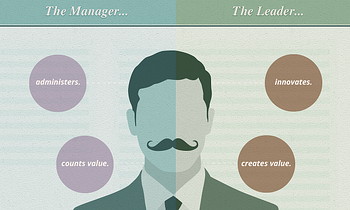 The same question keeps popping up in my head. Have we overemphasized being a leader and devalued being a manager?
As we work with prospects and clients to align sales and marketing strategies, it's a common theme. From lead capture, to sales pipeline, organizations have a systems and processes "management" problem.
Salesforce is a perfect example. How many companies spend thousands of dollars on a platform that just sits there, in total disarray. Salespeople hate to use it because it's inefficient and nobody can explain a clear process or workflow to manage it all.
I clicked through this infographic by Chuck Mache, and it looks like he's thinking the same thing we are. It's not about Leadership vs. Management. It's both...

Share your thoughts on Leadership vs. Management. Join the conversation on LinkedIn and Google Plus.
Infographic Source: Leader vs. Manager
Related Posts:
4 Ways to Identify and Develop Sales Management Talent