When I think of employee engagement, I think about organizational commitment, empowerment, communication, and results. I think about employees who strive to "Be the Brand!" Here's is a list of five questions to evaluate employee engagement.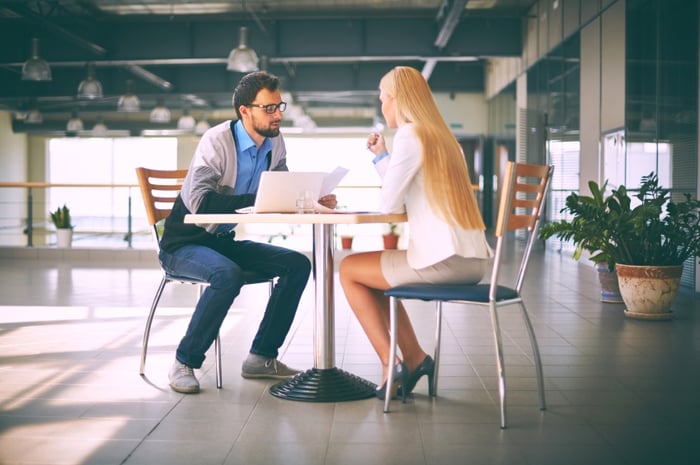 1. What kind of relationship does the employee have with their manager?
You can tell very quickly whether an employee and their manager have good business chemistry. Observe their interactions, the depth of their conversations, and their body language. Watch for the way they interact with each other compared to their interactions with others. Do they "click" and understand each other? Listen to the things they say about one another when the other person is not around.
2. Does the employee have clear goals that are measured and reported on a regular basis?
Sales professionals expect to be measured against their goals. Statistics tell a big story and paint a picture of what's working and what's not. Talking numbers is fun, especially if you are putting up BIG numbers! Depending on the length of the sales cycle, measurements might be daily, weekly, and at most, monthly. I've seen sales people who have complete hands-off autonomy with little or no interaction from their manager. Chalk that up as a "career limiting move" by both parties. Get in the game, get plugged in, and keep your finger on the pulse.
3. Does the manager provide consistent feedback along with a customized development plan for that employee?
The more an employee communicates with their manager, the better they understand each other. I like the idea of getting into each other's head and understanding the way each other thinks. It plays an important role in shaping behaviors and building strong working relationships.
4. Is the employee accountable for improving year-over-year?
Create an expectation for getting better month after month and year-over-year. It's not OK to sit back and do what we've always done. Shake things up. Create new opportunities for developing new business and enhance the client relationships you already have. Next, look at your year-over-year results for the past three to five years. How do they compare? Have you improved every year? Develop yourself and your teammates to have significant opportunities to be recognized, advance your careers, and make more money.
5. How is the employee rewarded for meeting or exceeding performance goals?
Cash, trips, public or private recognition, career advancement, and the list goes on. So often we think that "everyone" is motivated by money, but this isn't always true. I recently sat down with a salesperson who always figures out exactly what it's going to take to be right at 100% of his goal. Money is not a factor for him; he says his family has plenty. He wants to come to work, be a resource to the team, and make steady improvements over time. You may not want to believe it, but you have people on your team who share a similar mindset. Find out what drives each employee, establish expectations for acceptable progress, and then coach to that result!
---
Notice every question involves both the employee and the manager/company. It's all about communication, coaching and development. Check out this great infographic from Officevibe on "The Secret to Employee Motivation"...
This infographic was crafted with love by Officevibe, the employee survey software that shows you how to motivate employees so that they're more productive.
Aside from those rare individuals who are highly-driven self starters, most employee engagement levels will depend on the manager and the company's involvement in creating an employee development culture.
How do you keep yourself and/or your sales employees engaged?