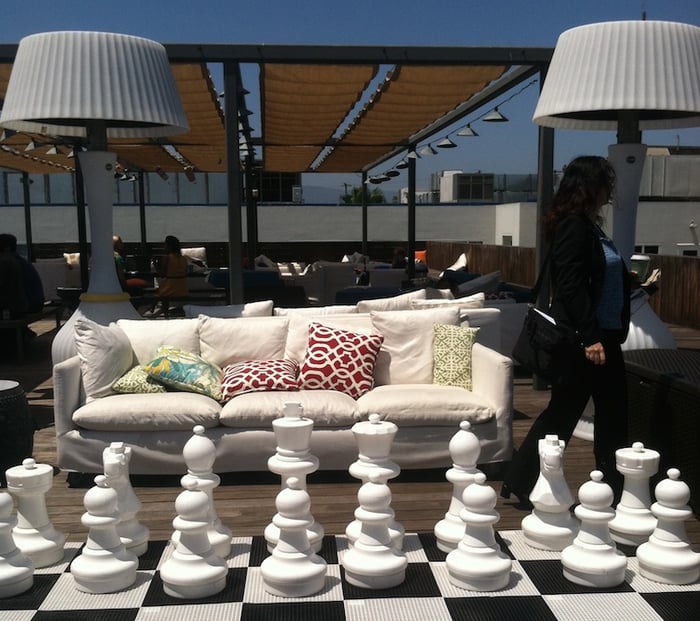 Inbound marketing can be a game of chess. Google knows this.
This past week we attended a search seminar at Google LA. Bo Pulito, a Strategic Partner Manager for Google, shared some interesting new data Google had acquired and what that meant for inbound marketers and small business owners alike.
Here are four statistics from the seminar that will hopefully help inform your current inbound marketing strategy.
1. Mobile search surpassed desktop search in October of 2014.
This has been a fairly well circulated stat but it's still incredibly important to touch on. Mobile search overtook desktop—and by a large margin—at the end of last year. Google only sees this trend increasing, and drastically, as time goes on.
Why the dramatic change? Mobile devices are convenient and more accessible. Think about it, we tend to have our phones on us a lot more than we do our laptops. And when we do have our phones, people check them every six minutes on average.
When there's a term that describes the anxiety we feel when we don't have our phones (nomophobia) but not when we're without our computers, we know we're mobile dependent.
What does this mean for marketers? If you don't have a mobile strategy, you're missing out on traffic. First of all, your site needs to be mobile friendly and have a responsive design.
Additionally, if your business has a physical location and you're interested in finding customers in your area, make sure to use local keywords and set up a Google My Business account. Nowadays this is crucial: one in three mobile searches have local intent and "near me" searches have increased 34 times since 2011.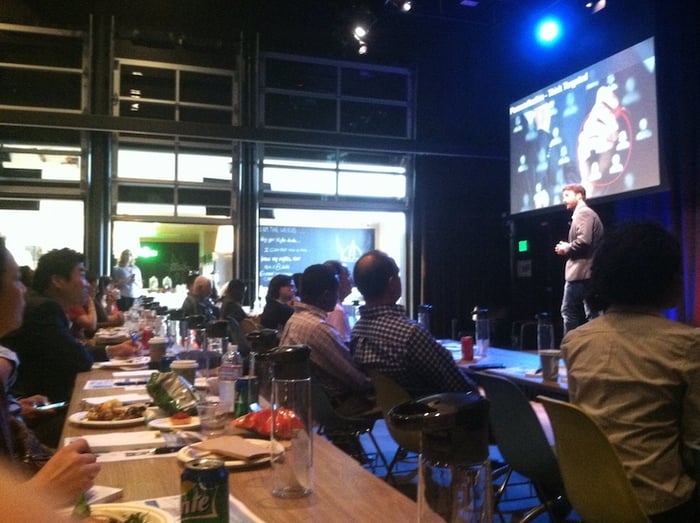 Strategic Partner Manager Bo Pulito at Google LA.
2. YouTube reaches six times as many 18 to 34 year olds than the top five full-episode players combined.
We know how important visual content is and how its popularity is only going to increase in the coming years. One type of visual content that is skyrocketing in popularity and performance is video.
If you're creating video content—and you should—make sure to upload it to YouTube, a Google product, to get maximum exposure. Another best practice: when using that same video content on Facebook, upload it directly to the social media site via Facebook video. It's been found that Facebook rewards videos uploaded directly, increasing engagement to thousands of users as opposed to the mere hundreds that links to YouTube and other external players receive.
3. Internet users spend 95% of their time on content sites and 5% on search sites (like Google).
This makes sense, as we're prone to navigate away from search engine result pages (SERPs) once we find what we're looking for. This statistic is important because it means if you're not utilizing paid advertising on Google's Display Network you're missing out on the opportunity to reach your customers wherever they may be online.
The Google Display Network is different than regular Google AdWords because instead of just showing up in the ad space reserved on SERPs, your ads appear on dedicated ad space on content sites (think ESPN, Oprah, popular blogs, etc.). If you're using the Display Network in addition to traditional Google AdWords (which you should), this will allow you to get in front of your audience when they're searching 5% of the time and while they're browsing the web that remaining 95% of the time.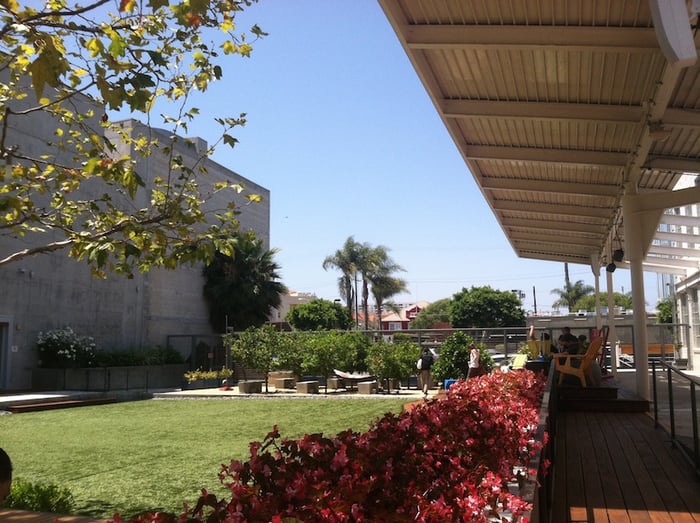 The beautiful Google LA campus.
4. There are incredible benefits to showing up organically and in the paid ad space on page one of the SERPs.
It's important to supplement all of your SEO efforts with paid advertising. If you can work your way up to page one of the SERPs organically, and pay to have your ads show up there too, you can increase clicks by 90%, visitors by 40%, and conversions by 44%.
That's a huge number of conversions.
Conclusion
By keeping your ear to the ground and staying informed of the most recent research and statistics, you'll be able to adjust your inbound marketing accordingly.
The major takeaways from this post? Make sure your site is mobile-friendly, utilize video marketing, implement paid advertising via Google AdWords and the Display Network, and keep on keeping on with your SEO efforts.