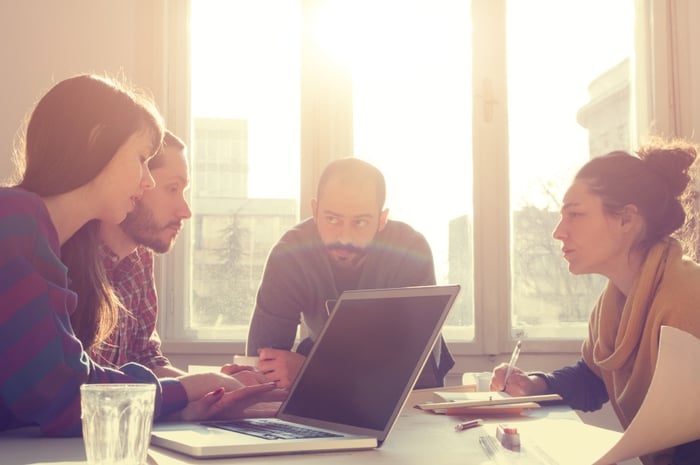 How can sales and marketing teams collaborate to generate better quality leads and get them through the buyer's journey more quickly?
With the dawn of inbound marketing came a pivotal time for sales and marketing alike. Now, thanks to inbound marketing, campaigns are more easily tracked and we can effectively target more qualified leads.
These days, marketing teams have a whole new way to attract and generate leads, allowing sales to know exactly where leads are in the buying process. Inbound marketing encourages and fosters more sales and marketing alignment.
Collaborating for Content
Content plays a big role in generating higher quality leads and move prospects through the buying process faster. Many of your leads first interact with a piece of web content before connecting with a person at your company.
Inbound marketers need to use the sales team and its expertise to create the right type of content. There are two major types of content your salespeople can help you with: blog posts and downloadable offers (think eBooks and tip sheets).
Blog Posts
One of the best ways to generate blog content is to find out what questions your customers are asking and answer them in the form of a post. Who better to turn to in order to find out what those questions are than your sales team? They're the ones regularly chatting with customers and helping them make a purchasing decision.
Ask a few salespeople if you can interview them either in person, on the phone or via email. Also see if a few members of the sales team will keep a list of the questions prospects and customers ask so that you can create quality content based on them.
Downloadable Offers
You can also utilize the expertise of your sales team to create more effective downloadable offers. Before settling on a topic and creating a 10-page eBook or whitepaper, consult with the sales team.
Remember, these downloadable offers are your primary mechanism for lead generation, so make sure the topic you're writing about targets the leads you want in your sales funnel.
Perks of Collaboration
You want your content to generate leads. Therefore, you want your sales reps to know as much about that content—and the leads it's generating—as possible.
Once you've used the sales team's insight to generate great blog posts, eBooks, tip sheets, and the like, share it with your sales reps. This will open up a line of communication between sales and marketing teams, show that you're listening to sales' needs, and allow sales reps to understand what materials prospects are reading before coming to them as well as what that audience looks like. Having this information about the content will also allow salespeople to have a better context in which to nurture the lead and/or make the sale.
Ultimately, collaborating with sales to generate content won't only lead to more quality prospects, it will increase sales and build revenue.