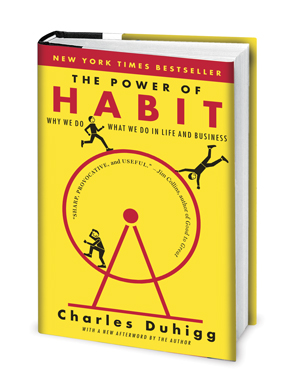 Sales leaders are always looking for ways to make their team better. There is a great book I have been reading, The Power of Habit: Why We Do What We Do In Life and Business by Charles Duhigg. In his book, Duhigg relays interesting findings on habit formation and the psychology and neuroscience that drives changes in behavior. This is not a self-help book with anecdotal remedies, but a focused look at the science behind habit formation and change.
As salespeople and business professionals, we all allow bad habits to creep into our daily routines. These habits have a way of diminishing our effectiveness and performance and sometimes lead to catastrophic failures. To perform at the highest level in business and sales, we need to understand the habits in our lives that deter us from accomplishing our dreams and goals and understand how to change or replace them with winning behaviors that accelerate growth and achievement.
Identify the Habits
Most of us can identify the bad habits that impact performance, but how do we break a bad habit and create a good habit? As a salesperson or business professional, you know you need to make contact with more people daily to increase the number of prospects in your sales pipeline, but other projects, meetings, and activities get in the way. You struggle with the idea of doing what it takes day in and day out to engage enough people.
Another example might be a lack of product knowledge. You just can't force yourself to sit down and spend time developing your knowledge and understanding the products you sell. If these scenarios sound familiar, lessons from The Power of Habit can help you overcome the bad habits that are negatively impacting your performance.
Keystone Habits
Identify why you do what you do and the habits that need improvement. Decide to change only ONE (a.k.a. a keystone habit) in your life. Focus on one habit pattern, change the pattern, and teach yourself to reprogram the routines in your life. What is great about this idea is that the first habit doesn't have to be related to the sales habits that you are trying to change. It can be as simple as deciding to exercise more, or deciding to make your bed every day.
Where to Start
Start with something easy, and find success in changing that one habit. What habit do you want to change? About 6 months ago, I decided to swim laps at a local pool. I had not been exercising much at all prior to that decision. Six months later, I am still swimming consistently every week, and the habit is firmly incorporated into my weekly routines. As a result of swimming more and learning the discipline of forming this habit, I was also able to set off a chain reaction to change and improve other habits.
Keystone habits can improve sales performance and transform your entire organization. Determine a keystone habit you can change. Learn about yourself, your self-discipline, your willpower and your determination. Apply it to improving your lead generation, product knowledge, and other habits that will take your life and your sales career to the next level.
Share your tips for building winning habits. Join the conversation on Google Plus.