Leads convert faster when your salespeople engage with prospects who are already predisposed to your company's products and services. But, most of us are used to working for sales organizations where target accounts are assigned to us based on a set of search criteria. For example, the sales manager will go into a database like Hoover's or InfoUSA and filter a list based on industry, zip code, company size, revenue, etc. They dump the list into your CRM and you're off to the races...right?
You make your first call on a new target account, and the receptionist answers...
"Jim Smith please," you say.
"Who?" they ask.
"Jim Smith," you repeat.
Their response: "Jim Smith hasn't worked here in over two years."
OUCH! That's not the kind of interaction you were hoping to start the conversation with, but you power through it and try to find your way to the new decision maker.
Salespeople go through this scenario everyday, and yet we wonder why our sales cycle is longer, and why the average number of salespeople that meet quota keeps dropping.
There's got to be a better way. What if you could improve the quality of the list you were calling from? And, What if your prospects already knew who you were before you called them? It's about knowing where the fish are.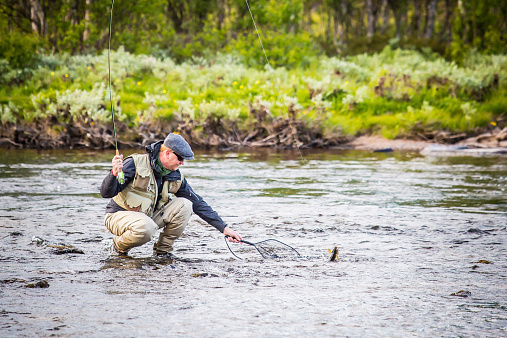 Being Prepared
Buyers are not the same as they were a generation ago, and some sales prospecting techniques that worked back then are less effective now. The good news is, it's easier now for sales professionals to gather information about potential customers, gain insights into buyer interests and buyer behavior, to help see the world through the eyes of the prospect. Performance improvement begins with focusing on prospects with the highest probability of producing lead conversions. Conversely, focusing on prospects who have never heard of you and have no interest in your products is like trying to fish without bait.
Understanding Today's Customer
Today's customers are informed. People are comfortable searching and browsing relevant content well before making a purchase decision. They're confident in their ability to assess their own needs, do their homework, and make at least a tentative decision before ever connecting with a vendor. The "gurus" will tell you that customers are 60 to 70 percent through the sales process before engaging with your brand or talking to a sales rep.
What does that mean for marketers and sales reps? Does it mean we sit back and wait for prospects to come to us, ask us questions, hope it makes sense, and simply take their order? NO! We have to fish where the fish are.
Leverage content via inbound and outbound channels to present prospects with value added information. Position yourselves as a value added resource, industry expert, and trusted advisor. Most buyers "think" they know exactly what they need, but great salespeople are skilled at engaging in relevant business conversations, finding the need behind the need, connecting the dots, and presenting a better solution than the prospect had originally considered.
Finding the Best Leads
Your prospects are looking for you, and they're willing to engage in your lead conversion funnel in exchange for quality information. But, how do they find you (inbound), and how do you find them (outbound)? Start by ensuring your inbound marketing speaks to them consistently. Do your website, blog, and social media profiles create an accurate picture of who you are and what you offer? Do you regularly review website and social media analytics to learn what prospects respond to? Do you have a lead scoring methodology for filtering the best prospects to the top of your list? Do you engage with prospects on social media and in blog comment threads? These interactions and analytics promote lead conversion and help ensure prospects know who you are before you call them.
Conclusion
The content on your website, social media accounts, and blog builds your reputation and your brand. It lays the framework for your sales pipeline. Keeping these content sources fresh and engaging is not a short-term strategy. It's a long-term, ongoing commitment to consistency and quality. A blog that was updated a year ago, or a social media account that you haven't touched in a while leads visitors to conclude you're either not in business anymore, or you're out of touch with the new way of attracting and interacting with customers. Stop focusing on prospects who are indifferent. Higher lead conversions come when you increase the number of prospects who know your brand, they've demonstrated an interest in your products and services, and they believe that aligning with you is going to make them better.