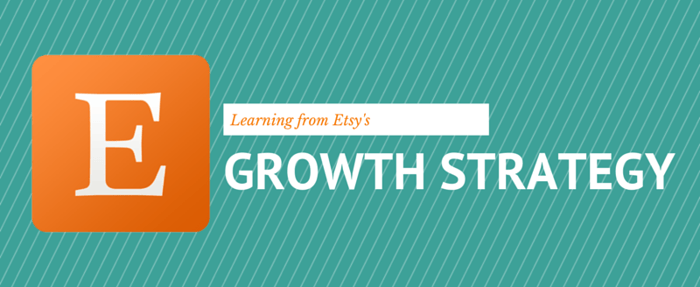 Are you looking for ways to bolster your online presence, grow your business and increase revenue? An unlikely candidate may be able to teach you just that.
Growthhackers.com recently did an awesome growth study on Etsy. It looked at Etsy's growth strategy at all steps of the journey: during the early days, the dynamics and decisions that allowed them to scale, and how the company keeps finding that new "growth lever."
It's an interesting study, as Etsy, founded in 2005, has grown from a small start up that found traction in the feminist craft community to a public company with a $2 billion valuation just ten years later.
So what lessons can we learn from Etsy's growth and how can we apply them to our own businesses? Here are three major lessons I took away.
1. Connect to a community.
Etsy found early traction and growth by "appealing to and connecting with an online community and marketplace for the feminist crafter movement." This provided them with a passionate group of people looking for the community Etsy was trying to create online. They brought this group into what they were building with Etsy, and took off from there.
Not only is it important to build a community online, it's just as crucial to foster one offline. Make sure you're attending industry events to connect with like-minded professionals on a personal level.
2. Leverage organic reach to drive word of mouth and SEO without spending money.
Etsy used those early community members to spread the word to others who might be interested in joining the Etsy community and marketplace. By leveraging that word of mouth both online and off, the site saw its SEO ranking increase while spending "next to nothing" on customer acquisition.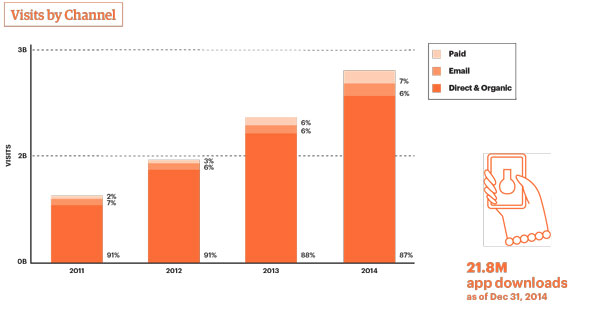 Growthhacker notes, "Since 2011, organic channels have represented 87–91% of Etsy's traffic, while paid ads are have been responsible for between just 2 to 7% of traffic." What's also important to note: direct and organic traffic is usually of much higher quality than paid traffic.
It would be remiss of me not to mention that Etsy's function as an online marketplace has helped produce such organic growth, as sellers sharing their own stores drive traffic and repeat buyers encourage sustainable growth.
3. Use social media to capture your ideal audience.
Etsy is a brand that knows where their audience is online and what social networks they need to leverage in order to reach them. Take Etsy's Pinterest page for example, they have almost 611,000 followers and 116 boards. Pinterest is most likely the best social network for Etsy, as it continues to send low-cost, high-value traffic to the site.
Etsy is also a great example of what incorporating social media buttons on your own site can do. Not only do product listings have Tweet and Like buttons, for Twitter and Facebook respectively, they also have Pin It buttons that allow users to add products to their own Pinterest boards. According to the Pinterest for Business blog, "Upon observing that their customers were pinning Etsy items onto Pinterest, the Etsy team added the Pin It button on each item listing page on Etsy.com."
Etsy also leverages their strong Pinterest presence by having guest pinners pin to Etsy group boards. In addition, they don't just pin their own products and content. According to Etsy's Editor in Chief Alison Feldmann, "We showcase Etsy's values to drive loyalty and engagement, and we post things that resonate with our community. We maintain a careful balance of Etsy items and other content pinned to maintain authenticity with our audience."
In other words, Etsy has its social media game down. We can learn a lot from how they take advantage of a specific social network to drive engaged traffic.
Conclusion
Although Etsy may seem like an unlikely candidate for a study, both B2B and B2C companies can learn from their growth strategy. By creating a community, fostering relationships to improve organic traffic, and utilizing social networks to engage your ideal audience, you too can achieve the type of success Etsy has seen online.