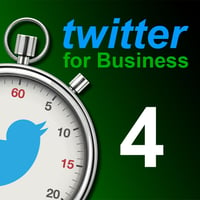 Ever wonder how you can best leverage 140 characters in a tweet? This Twitter for Business lesson explores the anatomy of a tweet, including hashtags, mentions, short URLs, and abbreviations.

The lesson also explores the elements of a tweet once it has been published. I'll show you the different ways you can view and share your own tweets and others' tweets from within your timeline.


Stay tuned for lesson 6 when I discuss leveraging these and many additional Twitter features to their full potential.
Twitter for Business

Twitter for Business teaches you everything you need to know about leveraging twitter to market your business. There are 17 lessons. You can learn the essentials in under an hour. But if you want more, there is an additional hour of Bonus Lessons and videos.

Every week, I share a new video. Subscribe to xoombi to get immediate updates when I publish each lesson. I'll see you next week when I share my Complete Guide to Twitter Settings!
If you have thoughts or questions about anything I discussed in this lesson, please ask them in the comments section below… I check messages regularly and look forward to interacting with you.